You are here
Job Confidence Index
Sweden job candidates top confidence in Europe: too optimistic?
PageGroup recently published its first Job Confidence Index. The index rates the perceptions of the economic and labour situations in Europe and is based on results from over 40,000 job applicants who applied for positions on the Page Personnel and Michael Page websites across Europe.
According to the result for the first half of 2016, 66% of Swedish candidates believe that the current job market situation is good and 77% think that the outlook for the future is also bright.
The European average is pulled down by lower levels of confidence in Southern & Central Europe, where the rating of the current job market is low but with a more optimistic outlook for the next 6 months. Sweden, however, compares favourably with the more positive Northern Europe, with German candidates coming in at the top - being the most positive towards the current job market situation (74%). The same beliefs are confirmed when looking at the perception of the economic situation. In Sweden 73% agree that the current economic situation is good and 79% believe that it will get better in the future, whilst 83% of the Germans rate the current economic situation as good and 75% stated that the economy in the future will continue to look bright.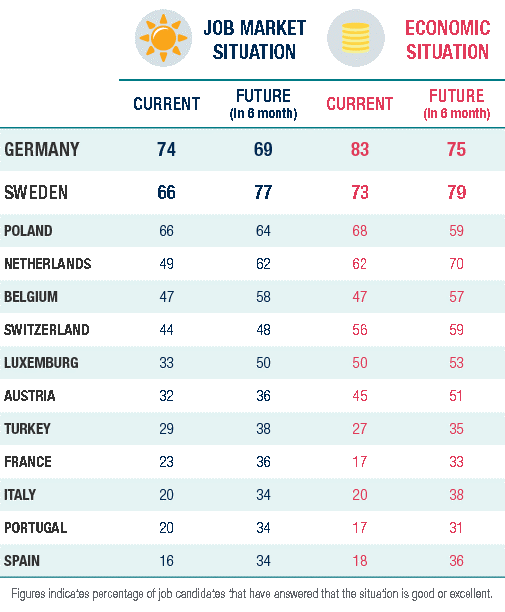 So why are Swedes so optimistic?
Jamie Hart, Executive Director of Page Group Sweden and Nordic Region, comments that "Swedish candidates have good reason to be positive..... Sweden is not a part of the Eurozone and therefore is not exposed to the pressures experienced in other European countries. The demand for skilled labour is strong and unemployment is low especially in the big towns. We are seeing upward pressure on salaries which will encourage individuals seeking new employment. This also puts pressure on existing employers to ensure they are retaining the quality and skills they require. Sweden is a very attractive market for foreign investment and also delivers highly sought after skills in many different areas......."
The high level of confidence among Swedish job candidates seems to be justified. The GDP per capita ranks at 14th in the world and the standard of living offered is high. According to OECD analysis in June, output growth is set to continue with further expansion of employment and Sweden's knowledge-based economy with highly skilled workers mean that productivity drives increased growth. Eurostat says that Sweden's low unemployment figures stand at 7.8% which may play a role in explaining the optimism that seems to resonate throughout Sweden.
Post vacation candidates can expect to live this reality as according to our index Swedes have high expectations regarding skill development, getting that career promotion and being very optimistic about finding a new job in less than 3 months.
More information
Have a look at the details of the Swedish confidence index <add link to page>
Contact information
Jamie Hart
Executive Director
Michael Page
T:+46 (0)8 545 270 40
E: [email protected]